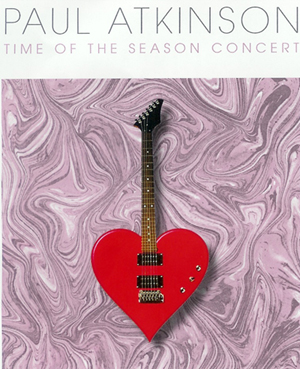 Paul Atkinson is a rare individual who has had two distinctly different, successful careers in the music biz. First as a member of the Zombies in the 60s, then as an A&R guy for several different labels, signing acts like Patty Smyth and Scandal, Bruce Hornsby and Mr. Mister and he worked closely with Abba, Jefferson Starship, Aerosmith and Brian Wilson among many others.
<![if !supportEmptyParas]> <![endif]>
The benefit concert Record Boy attended at the House of Blues in West Hollywood was an outpouring of love, respect and gratitude for Paul, a rare gentleman in the industry who has been quite ill over the past few years, undergoing two liver transplants and now diagnosed with inoperable cancer. The proceeds of the evening went to his family trust to help defray the staggering medical bills.
<![if !supportEmptyParas]> <![endif]>
Bruce Hornsby opened the evening with a couple of songs performed solo on the piano, followed by Michael Penn who performed a few of his better known tunes. Patty Smyth was the most eloquent of the performers in expressing her thoughts about Paul. And man, she could still sang! "Goodbye To You" took on a different meaning this night. Richard Page then performed his Mr. Mister pop radio fodder. Mickey Thomas sang "Fooled Around and Fell In Love" as well as his two big 80's hits with Starship. All the singers were ably backed by some first rate musicians including ex-Wings guitarist Laurence Juber and the very talented Doyle Bramhall Jr.
<![if !supportEmptyParas]> <![endif]>
The evening's headliner, Brian Wilson and his band, played letter perfect versions of "Heroes & Villains," "Do It Again," "Help Me Rhonda," "California Girls," and "Good Vibrations" to name a few during their half hour set. Brian sang to the best of his current ability which, to be charitable, was passable, and though he sat at the grand piano he never played it in any song. Nor did he acknowledge Paul. Come to think of it he didn't acknowledge anything. When his set was over all his back up musicians left the stage. Brian sat alone at the piano, raising the possibility of a solo encore. Then a band member reappeared on the stage and spoke to Brian, who then got up from the piano and walked offstage. There was apparently some confusion over who met the criteria for being a Zombie.
<![if !supportEmptyParas]> <![endif]>
Now the real highlight of the evening was the reunion of the original Zombies, the first time the band has played together in 37 years. A second guitar player was on hand to fill in some of Paul's parts, but Paul, despite looking very frail, did a fine job playing guitar on "She's Not There" and "Time of the Season." Colin Blunstone still has a fantastic voice and Rod Argent, looking a little Dorian Grayish, is still a keyboardist extraordinaire. Great, timeless music and a reminder to the industry crowd the importance of the Zombies in rock history and Paul Atkinson's stature in the music business.
<![if !supportEmptyParas]> <![endif]>
<![if !supportEmptyParas]> <![endif]>