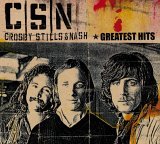 Crosby Stills and Nash House of Blues West Hollywood May 2005
<![if !supportEmptyParas]> <![endif]>
Face it. There are a lot of jokes one could make about these guys: Balding, Pills and Fat is one. But sorry to disappoint you 'cause Record Boy will not stoop to making any.
<![if !supportEmptyParas]> <![endif]>
The venerable trio opened their set with "Carry On" and though a bit wobbly on the trademark harmonies, the stage was set for a rollicking good time. The band was ably backed by veteran CSN sidemen (Joe Vitale on drums and Mike Finnegan on B3) as well as relative youngbloods (Keyboardist James Raymond who is Crosby's son is really a relative! Plus, Jeff Pevar on guitar and Dave Santos on bass).
<![if !supportEmptyParas]> <![endif]>
The set included the great chestnuts "Almost Cut My Hair" "Wooden Ships," "Helplessly Hoping," reworkings of "Marrakesh Express" and Still's "Love The One You're With," as well as some strong material from last year's Crosby and Nash double CD.
<![if !supportEmptyParas]> <![endif]>
The three part harmonies got stronger as the evening went on and the trio was utterly relaxed and having fun. Crosby spoke self deprecatingly and elicited a lot of laughs from the crowd. Record Boy couldn't help but observe that Stephan Stills has lost a lot of sheen from his guitar playing and singing. Jeff Pevar was mighty impressive with his fretwork however which prompted Graham Nash to charitably describe his abilities as "challenging but not threatening" Stills.
<![if !supportEmptyParas]> <![endif]>
Bottom line is that these old hippies can still thrill an audience. No joke!