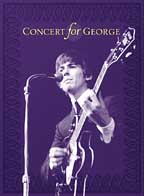 Concert For George
<![if !supportEmptyParas]> <![endif]>
One year after his death, a musical brigade of George Harrison's friends paid tribute to the man and his music at the Royal Albert Hall. That show was captured on film in all its glory. Who played, you ask? Well, lessee, howzabout Eric Clapton, Jeff Lynne, Tom Petty and the Heartbreakers, Billy Preston, Jim Keltner, Joe Brown, Dhani Harrison, Jools Holland, Albert Lee and Andy Fairweather-Low? If that ain't enough, I'll throw in Ringo Starr and Ravi Shankar. Still holding out? OK, OK how about Paul McCartney? How about Paul McCartney singing "For You Blue," "Something," and "All Things Must Pass?" If you're a fan of George Harrison or of The Beatles, you have to see this film. There are stunning performances (Sam Brown's take on "Horse To Water" for one; Jeff Lynne singing "The Inner Light" with Anoushka Shankar on sitar for another), moments of hilarity (thanks to Monty Python) and a palpable feeling of love and loss. This movie looks and sounds spectacular. Jeff Lynne spent six months getting the soundtrack just right and director David Leland and cinematographer Chris Menges created fly on the wall ambience both onstage and off.
<![if !supportEmptyParas]> <![endif]>
The West Coast premier of the film meant rolling out the purple carpet and yellow rose petals for Record Boy, but others who found their way down that aisle included James Taylor, Jackson Browne, Ravi Shankar, Billy Preston, Dhani and Olivia Harrison, Meg Ryan, Roseanna Arquette, Gary Shandling, Albert Lee, Marc Mann (who absolutely floors people with his guitar playing in the movie), Tom Petty and the Heartbreakers, Michael Kamen, Jeff Lynne and Ringo and Paul and their wives. Record Boy and Mr. McCartney had a brief exchange of glances from about 10 feet away. But what do you say to a living legend? Paul was tongue tied, so no words were spoken.
<![if !supportEmptyParas]> <![endif]>
<![if !supportEmptyParas]> <![endif]>