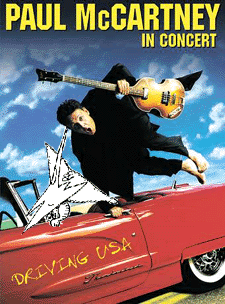 PAUL MCCARTNEY / STAPLES CENTER, LOS ANGELES MAY 2002
<![if !supportEmptyParas]> <![endif]>
After picking up my tickets at the, ahem, Band Will Call, ol' Record Boy made his way into the cavernous Staples Center in Los Angeles to see Paul McCartney. Of course I was mobbed instantly by autograph seekers and after a chase down the corridors of the arena that smacked of "A Hard Day's Night", I arrived at my seat intact (thanks for your concern).
<![if !supportEmptyParas]> <![endif]>
Now, I've seen Paul play several times before in the past and always felt that he was uncomfortable with his legacy as an artist based on how much he would dumb down his shows. He always seemed way too eager to please and his sets would teeter on rock star parody.
<![if !supportEmptyParas]> <![endif]>
Not at this show. This set was a dazzling display of one of rock's best songwriters comfortable in his own skin, embracing both his legacy and his audience. He spoke warmly to the crowd between songs and went beyond the expected for his choice of material. Instead of throwing in a handful of his Beatle classics (i.e. "Yesterday" "Hey Jude" and "Let It Be") in between bouncy Wings hits, Paul opted to perform a lot of his best songs from his vast catalog. And after you play "Hello Goodbye", "Mother Natures Son", "Blackbird", "You Never Give Me Your Money" "Sgt. Peppers Lonely Hearts Club Band" "We Can Work It Out" "I Saw Her Standing There" "Back In The U.S.S.R." and "The End", there really is no room for "Silly Love Songs" "Say Say Say" and "Ebony and Ivory," is there?
<![if !supportEmptyParas]> <![endif]>
Paul's show started with a Cirque D' Soliel type performance of these people in costume (none wearing a cape like mine however) walking through the audience and strolling across the stage. What intrigued me the most about this is that the music coming over the P.A. for this lengthy bit was a trance/techno/drum and bass/Indian raga piece that was brilliant. And I'm quite sure that the composer/arranger/performer of this work is Macca himself 'cause I heard his voice on it. The thought struck me that this is what Paul should be doing now as a recording artist. He's done the pop thing to death. His classical pieces are nice but uninspiring. But I'd buy a Paul album of him following his muse like that introductory piece. It proves his mojo is still working and needs to be channeled in a new direction.
<![if !supportEmptyParas]> <![endif]>
Lastly, I've spotted a new trend at this concert. During Paul's performance of "Let It Be" the women in front of me were waving their lighted cell phones instead of a lighter in the darkened arena. File that as yet another unintended use of new technology! Of course since Record Boy is a bit of a trendsetter himself, I used my Palm Pilot instead!
<![if !supportEmptyParas]> <![endif]>
A splendid time was had by all. Thanks Paul. I will send you the dry cleaning bill for my cape once they remove all that confetti that you dropped at the end of the show!