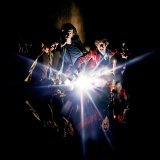 The Rolling Stones At The Hollywood Bowl November 6th 2005
<![if !supportEmptyParas]> <![endif]>
Imagine sitting in the audience outdoors at the Hollywood Bowl on a crisp November night when suddenly a legendary icon appears, larger than life, an idol of millions. Well, after the crowd got over seeing ol' Record Boy, they then got a chance to eyeball Mick and the Boys. Now, Record Boy has certainly seen his fair share of Stones shows over the years and outside of a few minor complaints here and there has always felt that the Stones live up to their long standing reputation as the World's Greatest Rock & Roll Band. However, there was something about seeing these guys this time that gave Record Boy pause. Will Mick seem ridiculous strutting the stage at 60 something? Will Charlie still be as compelling a drummer, the band's heartbeat, after cancer treatment? Will rigor mortis finally set in on Keith?
Turns out there was nothing to fear. Mick is still an incomparable front man. He can still move, engage the audience, sing great and dress to kill. Charlie, forgive the verbiage, didn't miss a beat and was his usual rock steady presence. Keith still looks cool playing his guitar slung low to the ground and he actually scored one of the highlights of the evening. The first song in Keith's usual two-song slot in the program was "Slipping Away" from 1989's "Steel Wheels". Outside of the three songs performed over the evening from the band's new "A Bigger Bang" album, "Slipping Away" was the only song performed that had appeared on an album less than 24 years old. Keith sang the best he's sang in years on this song and backed it up with some of his finest guitar work in a long, long time. Ron Wood, after 30 years in the band, for some reason seems to have been relegated back to being a sideman as opposed to a full fledged member. He hasn't had a songwriting credit on any new Stones album since 1986 and his solos seemed to have gotten shorter too!
Mick commented to the audience that the last time the Stones played the Hollywood Bowl was 1966. He said so much has changed since then, noting that ticket prices for that show was $4.00. "The only thing that hasn't changed is the set list!" he said. But you know what? When you have as rich an output as the Stones had their first 10 years as recording artists, it doesn't matter that you give short-shrift to the following 30 years! Sure the die hard fans would love for more obscure material at the show but when you're hit (sometimes in succession) with "Wild Horses," "Midnight Rambler," "Honkey Tonk Women," "Sympathy For The Devil," "You Can't Always Get What You Want" and "Satisfaction," you forget all about the nit picking and you just watch and listen as the World's Greatest Rock & Roll Band proves itself once again.