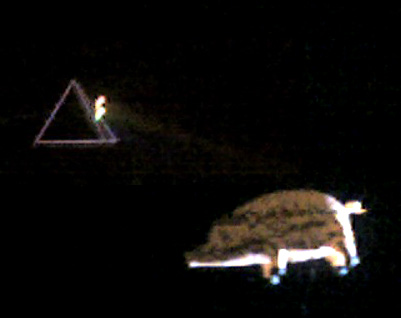 c2006 R.B.I.
Roger Waters @ The Hollywood Bowl 10/8/06
<![if !supportEmptyParas]> <![endif]>
It was quite a spectacle at the Hollywood Bowl as you could well imagine. This is one of the reasons that makes it difficult for Record Boy to go to concerts. The fuss people make over a super hero in their midst is incredible!
Oh yeah, the show was quite a spectacle too. Pink Floyd from the very beginning was always about a visual experience that accompanied and complimented the music. Roger made great use of the HD screen behind the band with different visuals happening for every song. Of course there were also fireworks, a flying pig and a giant prism for the Dark Side Of The Moon segment of the show.
In the first half of the show, Waters played a good chunk of Pink Floyd's greatest hits (saving "The Wall" excerpts for the encore), backed ably by a 9 piece band. For the second half of the show, which was a faithful recreation of the "dark Side" album, Waters and his band were joined by his Floyd mate Nick Mason on drums.
Guitarist Dave Kilminster was spot on as David Gilmour's replacement, hitting all the right notes with his solos and his vocals throughout the evening. Back up singer Carol Kenyon took center stage during "The Great Gig In The Sky" and sent shivers down the crowd's spine with her vocalizing.
Waters made great use of the Bowl's (relatively) new sound system, sending special effects to the back of the Bowl to create the occasional surround sound experience. The audience was made up of people from Generations X, Y, Z, Double AA and of course boomers too.
Roger Waters by most accounts isn't the easiest guy to like and he isn't an aging former sex symbol either. But people weren't enthralled at the concert by how he looks or what kind of guy he is. They were captivated hearing this timeless music played by a guy that had an extraordinary role in creating it.
If the crowd wanted a great guy and a sex symbol, well, they had Record Boy!
<![if !supportEmptyParas]> <![endif]>