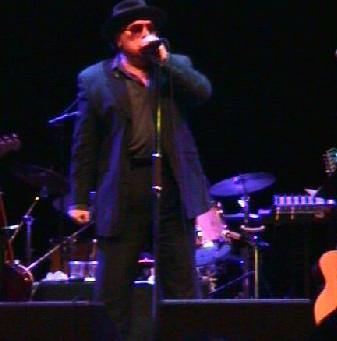 Van Morrison at the Wiltern Theater
            January 7, 2001
<![if !supportEmptyParas]> <![endif]>
<![if !supportEmptyParas]> <![endif]>
<![if !supportEmptyParas]> <![endif]>
I never want to see Van Morrison again, cuz I know he'll never be as
good as he was last night.  It was a magnificent performance. 
There were so many highlights:  A lot of Blues and R&B;  A cover of "Georgia" which would've made ol' Ray proud;  A surprise appearance by TOM JONES, where they sang a song together called "Sometimes We Cried"; Great performances of "Brown Eyed Girl", "Domino" and "Philosopher's Stone".
Since his current sidekick is Jerry Lee Lewis' sister, he did some rock
and roll rave ups including songs by Lewis, Chuck Berry, and Big Joe
Turner.  Van was enjoying himself immensely, as was the audience.
<![if !supportEmptyParas]> <![endif]>
Benjamin Krepack